For Online Coaches, Consultants, Course Creators, & Virtual Assistants who want to teach themselves & their team how to build a high converting, automated business.
Get Help Building & Automating your Funnels, Emails, & Online Courses. Plus, receive a Personalized Marketing Strategy for Your Business & Access to All My Funnel, Email, & Course Templates.
This price is only available for the first ten business owners. Sign up now before the price increases to $397/month!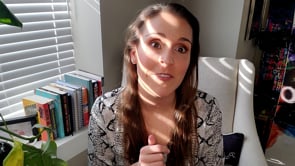 Learn How To Get Higher Conversion Rates & More Clients On Autopilot Using The Programs You Already Have...
I will teach you how to build your Funnels, Emails, Courses, and Marketing Automation With On-Demand training & Daily Voxer Access to Me & My Team!
Discover How To Build Your Powerful Online Marketing Systems On:
What You'll Get For $127.00 / Month
40+ Video Lessons Including:
You & your team will receive private login credentials to the actual Vault- the Marketing Funnels Vault. Inside this vault, you will have access to ALL the video trainings you and your team can go through if you get stuck with the tech while automating your business.
VALUED AT OVER $900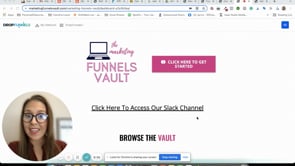 Monday - Friday Access to Voxer
Caroline Lewis is the CEO of a Done For Year Marketing Agency with over five years of marketing experience. You will get straight access to me & my team via Voxer to discuss different topics like Marketing Funnels, Automation, Tech & Integration, Email Marketing, Organic Marketing, Paid Ads, and more. If someone on your team is struggling with the systems, writing, or using our templates - they can also send me a Voxer!
Considering Caroline charges $250.00 an hour for just her consultation calls, this is a value of over $1,250 a week!
Weekly LIVE Platform Updates
The best thing about this program! Our platform gets updated with new video trainings weekly. When you log in and don't see a video training on a tech platform you're using, ask, and we'll add it in!
For example: if you utilize Kajabi but don't know how to use pipelines and you don't see that training within the vault, just ask us via Voxer & we'll shoot a video & upload it into the Vault.
NO other coaching program, membership, or anything else will do this for you... most are pre-set and never adjust.
We adjust with you as technology & programs get updated all the time!
VALUED AT OVER $2,000
Funnel, Email, & Course Templates
The point of MFV is to teach you and your team how to create high converting funnel & email sequences that lead to your evergreen course. That means you're making money in your sleep 😉 Marketing automation is AWESOME and frees up so much time, but most people struggle with the conversion rates. Our funnel, email, and course templates are plug-and-play templates that we've tested & used throughout the years. They've gotten us great conversion rates, so we'll know they will work for you!
VALUED AT OVER $1,300
TOTAL VALUE OVER $6,000 FOR JUST $127.00 A MONTH!
BONUS: When You Join Today, You & Your Team Will Get Instant Access To:
Paid Ads 101 Training That Includes...
Setting Up Your Ad Campaigns On FB, IG, Pinterest, and YouTube
How To Write Killer Ad Copy & Create Eye-Catching Creatives
How To Set Up Your Pixel Codes, So You Track Conversions Better
Still Not Sure About The Value? Read Below What My Clients Have To Say...
For 10 Female Entrepreneurs Only Who Are Tired Of Being Sick & Tired When It Comes To Automating Their Business (& their team!)
Get Help Building & Automating your Funnels, Emails, & Online Courses. Plus, receive a Personalized Marketing Strategy for Your Business & Access to All My Funnel, Email, & Course Templates.
There is NO contract and NO Minimum months.  You can cancel ANYTIME
Sneak Peek Inside The Vault
Marketing Funnels
Learn to grow your business on the top funnel programmers out there! Open the vault and watch training videos on utilizing funnel programs like DropFunnels, Kajabi, WordPress, Kartra, and more!
Email Marketing
Let's talk all things email marketing. Grow your emails & business by connecting more through emails. Learn to set up proper email sequences, tags, and automation. Plus, learn the best copy strategies to get them to open, read, click, and buy! Inside this vault, learn how to navigate platforms like Active Campaign, Mailerlite, Mailchimp, and more!
Content Creation
Diving into Canva, Vimeo, and more to discuss top strategies for creating the best content, so you stand out against your competition and increase your engagement.
Integrations
The important but complicated 'stuff' that helps run your business on autopilot. Learn how to navigate platforms like Zapier, Calendly, Zoom, Google Analytics, and more.
Project Management
Wrap everything up by knowing how to organize your business, employees, and analytics through project management systems! We discuss platforms like Trello, GERU, Clickup, and more. Organization is KEY to growing your business quickly.
BONUS: Paid Advertising
Ohhhh the fun journey of paid ads. Learn how to grow your business fast by advertising on platforms like Facebook, Instagram, Google, etc. We discuss ad campaigns, budget, creatives, and copy to spend your budget well.
$127.00/Month For The First 10 Ambitious Online Coaches, Consultants, Course Creators, & VAs Only
There is NO contract and NO Minimum months.  You can cancel ANYTIME